SHIINO, Wakana, Soichiro Shiraishi and Tom Ondicho eds., Re-Finding African Local Assets and City Environments: Governance, Research and Reflexivity. Tokyo: The Research Institute for Languages and Cultures of Asia and Africa, Tokyo University of Foreign Studies, 2016 March.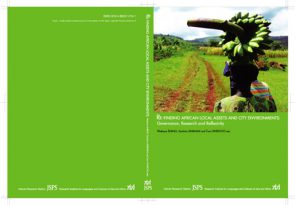 This volume is the result of two workshops held in Nairobi in 2011 and 2013 in a collaboration between Japanese and African researchers. The workshops were entitled "Approaches and methodologies of field research in Africa" (September 2011), and "Mobility, hybridity and the way to co-existence: re-structuring daily life in rural and urban African societies" (February 2013). In these workshops researchers attempted to "re-discover" Africa, through new approaches and angles, in line with the enormous social changes that took place on the continent in the last decades.  
Contributions:  
Researchers in 21st century Africa (Tom Gesora Ondicho);
Co-researching by African and Japanese: the way we started and the way forward (Wakana Shiino);
GIS framework for managing African slum societies: a case of Mathare slum in Nairobi, Kenya (Charles N. Mundia and Eunice W. Nduati);
The powers of private cities: zoning technologies, neoliberal governmentality and citizenship in Johannesburg (Yohei Miyauchi);
Conflict and the creation of peace (Itsuhiro Hazama);
Tourism and Maasai of Kenya (Tom Gesora Ondicho);
Participating in African popular culture as a researcher: a case of becoming a Karioki performer in Uganda (Midori Daimon);
Differences of the methodologies findings: an overview (Oloka Michael Obbo);
Ugandan sociologists met a Japanese anthropologist, experience of the decade (Paul Owora);
Cooperative management of human-wildlife conflicts by multiple actors: case reports of daily practices among local residents in Kigoma region, Tanzania (Mariko Fujimoto);
Maasai pastoralism today: reality after group ranch subdivision in southern Kenya (Toshio Meguro);
Remote sensing-based evaluation of trends and impacts of land surface property changes in the Mara ecosystem in Kenya (Eunice W. Nduati and Charles N. Mundia);
The elderly, spiritualism and social power among Buhororo tribal societies in Uganda (Ian Karusigarira);
Endogenous development process of the farming system supported by the mutual labour exchange system: a case study among the Bena in southern Tanzania (Fumi Kondo);
Performing Baakisimba dance during mass: negotiating, contesting and politicizing the 'sacred' in the Roman Catholic Church in Uganda (Sylvia Antonia Nannyonga-Tamusuza);
Kenya's South Nyanza region: movements of the Luo and changes in residential patterns from the second half of the 19th century to the British colonial period (Wakana Shiino);
Study trends of lecturers at the Institute of Anthropology, Gender and African Studies, University of Nairobi, Kenya (Tom Gesora Ondicho).