This is a fruit of the ILCAA International Zoom Symposium: How Are Young People in Africa Thinking and Living?: Education, Unemployment, Aesthetics, Politics, and Singleness. It was held on 22nd November in 2020. Due to the spread of the Covid-19, it was not possible to hold a face-to-face symposium, but we were able to connect online with scholars from African countries, Denmark, Poland, and India, and had lively discussions.
ISBN: 978-4-86337-345-7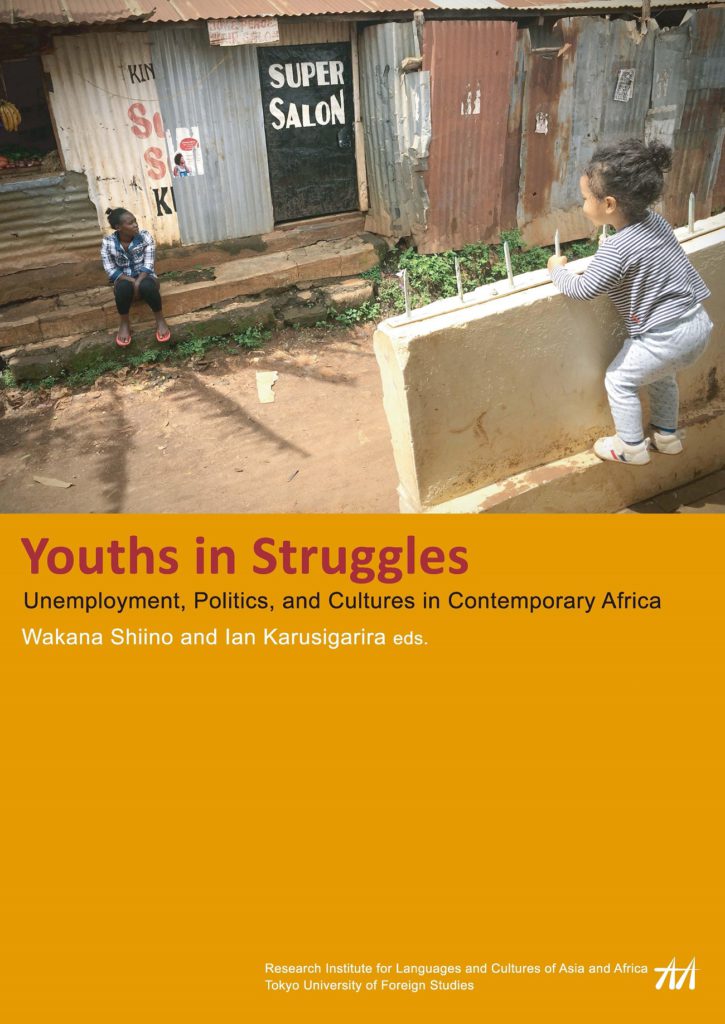 CONTENTS
Preface …………………………………………………………………
Wakana Shiino and Ian Karusigarira
Introduction……………………………………………………………
Wakana Shiino Part I Youth Struggles: Impact of Education
Part I Youth Struggles: Impact of Education
Chapter 1
Part-Time Herdboys in Periphery: Herding Camps as Workplace among
Youth of the Sabiny, Eastern Uganda…………………………………
Soichiro Shiraishi
Chapter 2
Poverty or Sugarcane Incentives? Explaining the Negative Dynamisms of
Sugarcane Farming on Youth Education in Eastern Uganda …………
Kassim Mwanika
Chapter 3
Culture and 'Inclusive and Equitable Quality Education (SDG 4)' in East
Africa: Ethnographic Evidence from the Pokot Context of Female
Genital Modification
Chris C. Opesen
Part II Youth Struggles in Music and Politics
Chapter 4
The Sound of Young Mzimba: Digital Music and Its Economies in
Northern Malawi
Piotr Cihocki
Chapter 5
Facing up to Contemporary Political Absolutism through History and
Threats: Aesthetics, LGBTI+, and the Youth Movements in Uganda…
Ian Karusigarira
Chapter 6
'We Were Told to Do So' : Youth Motivations towards Youth Livelihood
Programmes in Northern Uganda………………
Enos Kitambo
Part III Youth Struggles for Livelihood
Chapter 7
Using Sport to Move on to the Next Stage of Life: The Case of Young
Cyclists in Kenya………………………………
Takuya Hagiwara
Part IV Youth Struggles with Contemporary Technology
Chapter 8
East African Youth in Motion: Exploring Opportunities in Asia
Rebecca Babirye and Laban Kithinji Kinyua
Chapter 9
Students' Perspectives on Online Learning at the University of Nairobi
during the COVID-19
Tom Ondicho
Contact:
RESEARCH INSTITUTE FOR LANGUAGES AND CULTURES OF ASIA AND AFRICA (ILCAA)
TOKYO UNIVERSITY OF FOREIGN STUDIES
3-11-1, ASAHI-CHO, FUCHU-SHI, TOKYO, 183-8534, JAPAN.
Tel. 81-42-330-5600 Fax. 81-42-330-5610 E-mail: publ@aa.tufs.ac.jp,
http://www.aa.tufs.ac.jp/en/publications