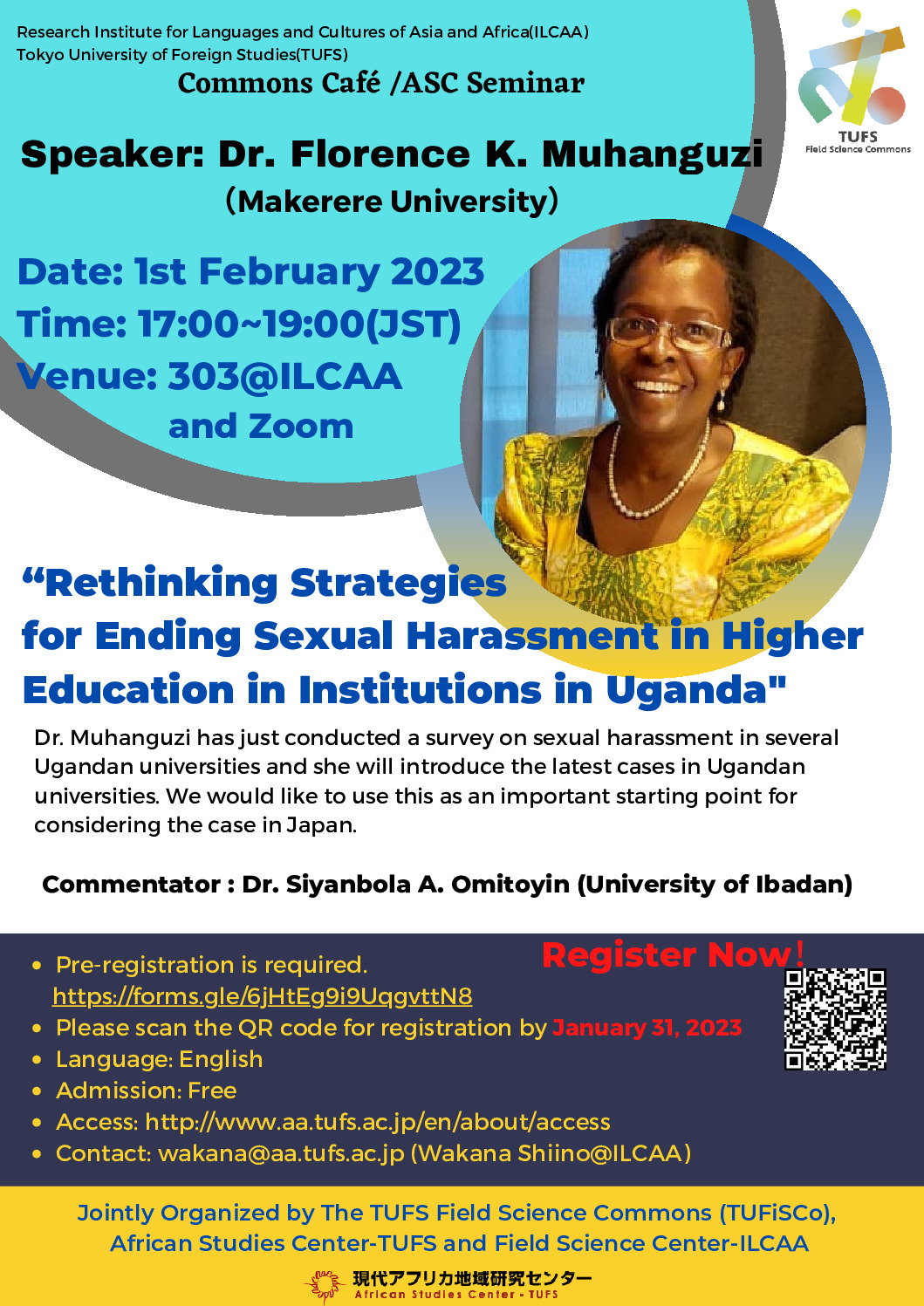 Poster: https://www.aajoint.live-on.net/en/wp-content/uploads/sites/4/2023/01/Florence-1stFeb-seminar-4.pdf
Research Institute for Languages and Cultures of Asia and Africa(ILCAA), Tokyo University of Foreign Studies(TUFS)
Commons Café /ASC Seminar
Date: 1st February 2023
Time: 17:00~19:00(JST)
Venue: 303@ILCAA and Zoom
Speaker: Dr. Florence K. Muhanguzi(Makerere University)
"Rethinking Strategies for Ending Sexual Harassment in Higher Education in Institutions in Uganda"
Commentator : Dr. Siyanbola A. Omitoyin (University of Ibadan)
Dr. Muhanguzi has just conducted a survey on sexual harassment in several Ugandan universities and she will introduce the latest cases in Ugandan universities. We would like to use this as an important starting point for considering the case in Japan.
Language: English
Admission: Free
Access: http://www.aa.tufs.ac.jp/en/about/access
Contact: wakana[at]aa.tufs.ac.jp (Wakana Shiino@ILCAA)
Abstract
Sexual harassment in Higher Education Institutions (HEIs) is a widespread problem in Africa, creating a hostile education environment. In Uganda, sexual harassment remains a collective experience for many young women in HEI, manifesting in different forms with varied impacts. The main question to be addressed by the presentation is; – what are the effective strategies for ending sexual harassment in higher education institutions. The presentation draws on "Whole University Approach: Kicking sexual harassment out of Higher Education Institutions in Uganda" action research project implemented at Makerere University.  It provides evidence of how the social construction of womanhood and masculinity animated through gender norms and practices that privilege men's sense of entitlements over women bodies have contributed to the normalization of sexual harassment in higher education institutions in Uganda. It will further, articulate the landscape of sexual harassment in higher education institutions and illuminate the effective strategies for addressing sexual harassment. The findings from the action research illustrate that knowledge and skills enhancement, provision of inclusive, confidential and safe space/platform for reporting and managing cases; and harnessing positive masculinities are valuable strategies for promoting education environment that is free of sexual harassment. 
Key words: Higher Education Institutions, sexual harassment, womanhood, dress code, masculinity, Uganda
Jointly Organized by The TUFS Field Science Commons (TUFiSCo), African Studies Center-TUFS and Field Science Center-ILCAA